It's 12/21 - Christmas is 4 days away.  I want to make 5 triangular scarves for women  on my KH260.  If you would throw me a pattern, ideas, I'd appreciate it.  There's also some guys - grey/brown triangular scarves? (or something store bought from Eddie Bauer).  I know for most of you this is common sense.  I have an idea of how i can do it, but don't have time for experimentation!!!  The yarn I'll be using is fingerweight.
Oh - "Admin" is me, Carol Hajdu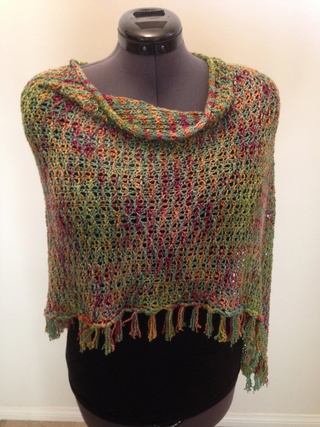 I feel like Anthony Perkins in "Psycho," when he was having conversations with himself.  Hopefully our forum will catch on.  Anyway, working until the literally last minute, I made these poncho/scarves.  They were handed to the gift recipients wet, as I wet finished them an hour or two before the Christmas party

.
Did this on my beloved Brother KH260, punchcard 2P, L23R22, ewrap cast on, T=8, tuck, 330 rows.
I have so many email accounts. To all of you who sent me messages via this forum and never heard back from me, I apologize! I just saw a slew of emails on the gmail account connected with this forum. Some were dated as far back as June 2016!

Here is the triangular scarf pattern that Ruth G. sent me in November 2016, and I just saw today (2/4/17)!

E-WRAP 3 EVERY OTHER NEEDLE, KNIT 2 ROWS, CARRIAGE ON THE RIGHT,
ADD 1 NEEDLE (ALWAYS EVERY OTHER NEEDLE). REPEAT THROUGH ALL THE NEEDLES. KNIT 10 ROWS THEN START DECREASING ONE NEEDLE AT A TIME UNTIL YOU HAVE 3 LEFT.
THEN CAST OFF. YOU SHOULD HAVE A NICE TRIANGLE.



Similar topics
---
Permissions in this forum:
You
cannot
reply to topics in this forum